Rani Mukherjee in Toronto


Rani Mukherjee at Albion Cinema's "Dil Bole Hadippa" Press Conference - Sept. 12, 2009

This past Saturday, Bollywood Mega Star, Rani Mukherjee stopped by Albion Cinemas to speak to press about her upcoming Yash Raj film entitled"Dil Bole Hadippa" (My Heart Goes Hadippa). The film is directed by Anurag Singh and stars Rani and Shahid Kapoor. "Dil Bole Hadippa" had a Gala screening at the Toronto International Film Festival on September 13.
Rani, looking fabulous is a black pantsuit at the press conference, was a petite ball of energy who was very excited to talk about the film and encouraged everyone to try playing cricket at some point in their life. "Dil Bole Hadippa" is about a young woman named Veera who is from a small village and is an incredible cricket player. She has dreams of playing cricket professionally but unfortunately, in her small village, there is no place for a woman on the local men's team. She disguises herself as a young Punjabi man to gain a spot on the team and fulfill a life long dream.
Rani tells us she spent 6 months training to convince audiences of her cricket skills and she enjoyed every minute of it. As for playing her male Punjabi character Veer, she says she spent so much of her life around Punjabi men that she really didn't need to do research for her male character nor was it modeled after any particular person. She just naturally gave Veer the characteristics she has seen in Punjabi men throughout her life.
Of her co-star Shahid Kapoor, she said they had great chemistry and she seemed very happy about having had a chance to work with him and would love to again. When asked about male co-stars and if she ever had a crush on any of them when she first started acting, she said she had crushes on Shahrukh Khan and Amir Khan.

On Sunday, September 13, Rani arrived at the Toronto International Film Festival with director Anurag Singh. She looked stunning in a long purple dress with her hair pulled back. Both Anurag and Rani said a few brief words to the audience and Rani gave a "Hadippa" shout out to the audience. The film was very well received by enthusiastic TIFF attendees and the music, by Pritam, definitely had toes tapping.
"Dil Bole Hadippa" opens in theatres this Friday, September 18 however Albion Cinemas will have an advance opening of the film starting on Thursday, September 17. See your theatre listings for details.

Rani Mukherjee Toronto Photos

Rani Mukherjee Albion Cinemas Press Conference
for Dil Bole Hadippa - September 12, 2009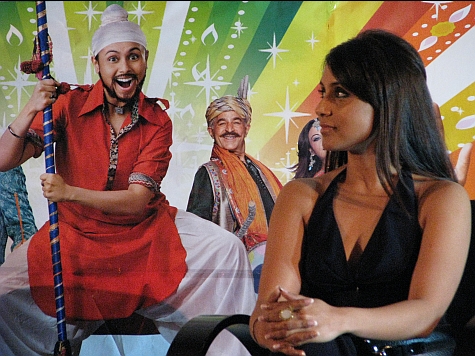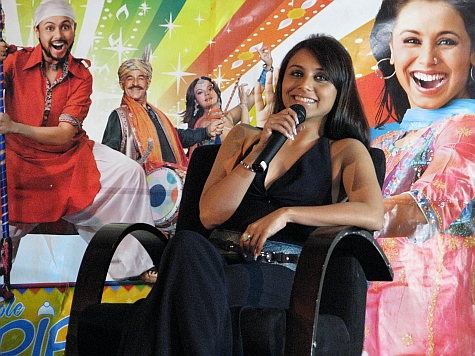 Rani Mukherjee at the Toronto International Film Festival
Dil Bole Hadippa Gala Screening - Sept. 13, 2009