Aisha - The Film

BollywoodToronto.Com talks with Sonam Kapoor about her upcoming film "Aisha" which releases on August 6, 2010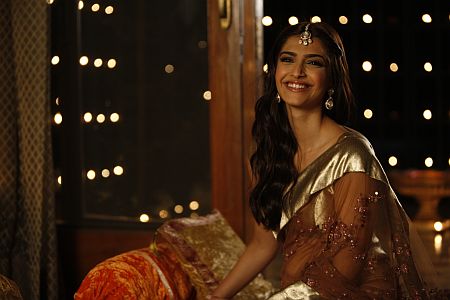 Sonam Kapoor as Aisha Kapoor

Hot on the heels of her smash hit "I Hate Luv Storys" Sonam Kapoor's fourth film "Aisha" is set to release in theatres on August 6, 2010.
"Aisha" is a modern day adaption of the 19th Century British novel "Emma" written by Jane Austen and set in the Upper Class Society of Delhi, India starring Sonam and Abhay Deol.

The film was produced by her younger sister Rhea Kapoor and her father, internationally known actor Anil Kapoor.
BT: Can you tell our readers a little bit about the film Aisha and the character you play?

SK: Well, it's based on a novel which is by Jane Austen and it's called "Emma". It's a coming of age story for girls about a girl trying to grow up. It's a comedy of errors. This girl is a meddler. She is a perfectionist and a match-maker who thinks that what she does is the best thing in the world for everybody. But it's not only about her. It's also about all these other people. There are five other characters in it and it's about all these people who we see through her eyes, who are like part of her life.


BT: Have you personally tried to do any match-making for people?

SK: I have tried to put people together. But, like a girl. It's a very girly thing to do.


BT: Were you successful? More successful than Aisha?

SK: Yes, I think so. I think I was.


BT: This was your first time working with your younger sister Rhea as producer. What was that experience like for you?

SK: It was fabulous! She's an extremely, extremely talented person and she's got vision and knows what she's doing, which is quite cool.


BT: This production was a real family affair. Aisha is your father's production company's production. Your sister and father were both producers on the film. Does that make you feel more comfortable or was it more pressure for you?


SK: I think it's a bit of both. I think a part of being in a film where you're the main protagonist. I think that was the pressure. I was also comfortable because I know I could completely trust them with everything because they are my family at the end of the day.



BT: Were your mother and father both on-board with your going into acting?

SK: Yes, they were eventually because they knew that is what kept me happy.



BT: What, if anything, do you have in common with Aisha?

SK: I think it's the precipice at which she is becoming of age, becoming a woman.


BT: This is your first time working with actor Abhay Deol. Can you tell us a bit about your experience working with him?

SK: It was amazing working with him. He is an amazing, amazing actor and he is so sweet. He is really biased when it comes to me.


BT: Did you or Abhay play any practical jokes on the set?

SK: We tried to be by ourselves and talk to each together and we were really, really trying to work hard towards the film. We used to do a lot of workshops together but we didn't have time to do any practical jokes. We used to pull each other's legs all the time (laughs).


BT: What is your favourite memory from shooting Aisha?

SK: I think it would be Rishikesh. We had a really great time there. We went river rafting; we did like 500 things there. We ate, we sat around the campfire. It was really lots of fun.


BT: What are your favourite songs in the film?

SK: My favourite songs are Suno Aisha, Gal Mithi Mithi and By The Way. I think I like all the songs actually.



BT: We've heard rumours you were going to be working on a film in Toronto this August. Is that still happening?


SK: It's not a rumour, it's fact! I am leaving on August 8th/9th to come to Toronto. I've heard Toronto is the most fun party place to be at.


BT: Thank you so much for taking the time to talk to us. Aisha looks fabulous in the trailers.

SK: Thank you so much for having me.

______________________________________________________________________________
Bollywood Toronto Interviews Akshay Kumar and Deepika Padukone for Chandni Chowk to China
The video is very high quality and a nice large size so it will
take about 1 minute to buffer before it plays. Enjoy!
Watch video

________________________________________________



Aftab Shivdasani and Aamna Sharif talk to Bollywood Toronto about their film "Aloo Chaat" Watch Video

______________________________________________________

Rock On!!
Bollywood Toronto talks to Abhishek Kapoor, Writer/Director, of Rock On!!
by Heather Manning

Starring Arjun Rampal, Farhan Akhtar, Luke Kenny and Purab Kohli, Rock On!! is the story of an unsuccessful rock band named "Magik".
Years after they have disbanded, fate conspires to bring them back together and the band continues on where they left off while doing some soul searching into their past.
Unlike many Bollywood films, the four lead actors making up "Magik" sang and played their own instruments. They also had opportunities to play in front of live crowds including a crowd of over 10,000 people.
Bollywood Toronto talks to actor turned Writer/Director, Abhishek Kapoor, about this exciting new film.
BT: What inspired you to come up with the story idea for Rock On!!?
AK: Well, I just came off another film and I was thinking about what to do next. I wanted to make a film about 4 boys, a male bonding film, a coming of age movie. At the same time I was listening to some music by Coldplay, U2 and the Dave Matthews Band and as things transpired, I thought why not fuse the two together and make a film about a band and that's how I got the idea for Rock On!!

BT: How is this film different from other Bollywood type films?

AK: Well, I think it's just the way we approached the film. The treatment of the movie, how real the characters are. I'm sure the performances are something people will appreciate. Here, the music is a completely new space that we've tapped into because Bollywood is known to have a standard style of music and they don't experiment very much. But we've gone out on a limb and done that and I think once the audience comes, they will see it's a very different film.

BT: Knowing that you wanted the four lead actors to sing and play their own instruments, how did this affect casting for the film?
AK: Well, I thought whoever played the part of the lead singer should sing their own songs. And I had Farhan meant (for the role) all along and when the script was ready, I approached him and I also told him that I needed him to sing. Now Farhan's personality, he is a cool guy you know, and I've seen him come up over the years and the kind of character's evolution in this film was somewhat similar to Farhan and I thought he would carry it very well. He's got an unusual voice and he got like a scruffy, grungy kind of voice that suits the rock genre and I knew he would do justice to it. So when we went into the studio and he did a demo for me, he was fantastic and I got very lucky on that front. Of the other actors, Luke is really into music. He's a musician and he can pick up the keyboard pretty easy. Arjun and Purab really played very hard for months-on-end and for about 5 or 6 months they went for training and their dedication and hard work really paid off.

BT: What was the most difficult aspect of making this film?
AK: Well, it wasn't too difficult because, you know, we were very well organized as far a shooting was concerned. But something we had to get right was the concerts that we were shooting. So the (big) concert we shot was about a five camera set-up. All the performances are like full blown performances, as performers at a rock concert would do, because we didn't keep cutting it while shooting it. They were live concerts that we captured and even the crowd responses seemed so real. I think that was a tough shoot.

BT: Bollywood films are becoming increasingly popular world-wide. Did this affect any of your decisions as a director while shooting Rock On!! or in choosing the film title?
AK: Not really. I wasn't looking at Bollywood as a norm for making film. I wanted to pitch the Indian film scenario into an international space. I've not tried to Bollywoodize the film. It's all over wider (than your typical Bollywood film).

BT: What are your favourite songs in the film?

AK: I think all the songs have gotten very popular at the moment but my favourites are Tum Ho To and Pichli Saat.

BT: What was the most exciting thing that happened to you as a director while making this film?
AK: Well, it's the opportunity to make the film *laughs*. And ya, to work with such a good team and having such good actors. It's been a great learning experience for me.
BT: What do you hope audiences will take away with them, emotionally, after seeing this film?
AK: The film has a message that people will take with them. Everybody has been given a talent, a God given talent. Which either some people accept it and realize it and some people don't ever realize it and life passes them by. But then, that lot which realizes it and doesn't do anything about it, is the one that's most pained. And if you believe that you have something in yourself, you have got to express it - a poet, a sportsman, or whatever you do and I think that you must go express yourself.

BT: Have you ever played in a band?
AK: No. I write and direct films and I'm living my dream.

BT: You are an actor turned director. Which do you prefer?
AK: I definitely enjoy directing because I think I am more in control of what I do and I feel I am more responsible for the result of my work as well. Whatever I do, I am satisfied. I enjoy doing what I do and that satisfaction, you don't get as an actor. I think film making is the greatest medium primarily.

BT: Is there anything you would like to tell readers of BollywoodToronto.Com about Rock On!!?

AK: Definitely! I would like to tell them to go and see the film and give us some feedback so we know what we did right and what we did wrong and hopefully they'll enjoy it.
BT: What is next for Abhishek Kapoor?
AK: Well, I'm not working on any sort of project yet but I think once this movie is out, I will look into something.

Rock On!! opens in theatres on August 29, 2008.